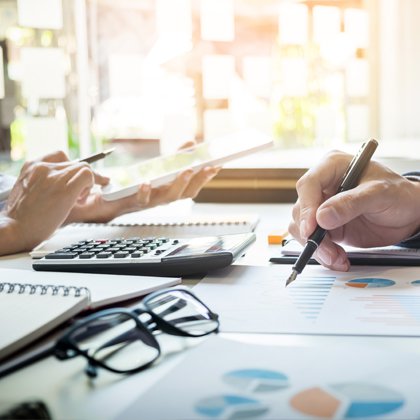 Financial Consultancy Services
Within the scope of Consultancy / Financial Consultancy services, we inform our taxpayers about their legal obligations, provide them consultancy services, present opinions regarding the Avoidance of Double Taxation Treaties, laws, and legislations, and we offer suggestions regarding problems that may arise.
The consultancy services we provide our customers with are indicated down below:
Monthly Document and Record Check
Preparation of Monthly Tax Declarations and Notifications and their electronic transmission
Preparation of Temporary Tax and Yearly Corporation Tax Declarations and their electronic transmission
Electronic transmission of B/A ve B/S Forms
Reporting Services
Supporting the detection or preparation of the data necessary for the preparation of all kinds of Financial Reports and Management Reports in accordance with the Group Directives.
Financial Accounting Services
Financial Accounting is one of the most important sources for the foundation of all decisions and a successful business management.
Within the scope of Financial Accounting service, we help you with subjects down below:
Conduction of Financial Accounting Transactions based on Generally Accepted Accounting Principles and Tax Legislation
Establishment of the Accounting System and fulfilment of the Consultancy, Control Activities
Preparation of the Year-end Financial Statements, Balance-Sheets, and Statement of Income
Preparation of related Term Tax Declarations and Notifications and their electronic transmission
Personnel Accounting Services
As the Outsourcing team, we have the aim of undertaking all transactions in relation to personnel accounting and supporting our customers on all transaction in relation to the matter.
Preparation and control of personnel payrolls
Transmission of the payrolls and invoices to the employees with the method and way which the customer deemed suitable
Regulation of the SSI declarations
Transaction of workplace SSI registrations
Calculation of the Severance and Notice Pay for the resigned Personnel
Making the legal notifications when starting and quitting the work
Preparation of all kinds of notifications and forms that need to be given to the government agencies
Helping with answering the employees' questions about the calculations
Helping at the stage of making the wage payments